CPT and CPTu Difference – The piezocone penetration test (CPTu) – is a crucial in situ testing method used to determine the geotechnical engineering properties of soils and assess subsurface stratigraphy, relative density, strength, and equilibrium groundwater pressures. Particularly effective for soft soil, it is a valuable tool for geotechnical investigation work in Indonesia's coastal areas and alluvial regions.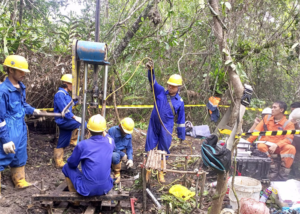 Compare to the mechnical CPT which is popular in Indonesia, the CPTu is a specialized type of Cone Penetration Test (CPT) that provides additional measurements of excess pore pressure generated during penetration. The "u" in CPTu is traslated as the porewater pressure. Due to its economical, rapid and precision, the CPTu is becoming a one of the most commonly field testing method in geotechnical investigation industries.
Besides use for capturing data of soil soil properties, the CPTu is advatage is that it can also be used to perform pore pressure dissipation tests. A dissipation test can be conducted at any depth by measuring the rate of excess pore water dissipation of excess pore pressure to reach a certain percentage of equilibrium value representing the hydrostatic water pressure at that depth. The test provides valuable information about the porewater pressure dissipation of the soil and its potential for liquefaction.
At Groundcheck, we own and operate CPTu testing equipment from Geomil (Netherlands), one of the most reputable companies that produce CPTu probes. We can perform in situ tests using 2.5 tonne or 10 tonne frames across Indonesia. Our qualified engineers understand CPTu, and we have extensive experience performing CPTu tests for mining areas and large infrastructure developments.