Groundcheck, we offers geotechnical drilling, environmental drilling, geotechnical instrument installation, and in situ testing services in Indonesia. Our team of experts is equipped with equipment and techniques to ensure high-quality results and data integrity, even in difficult and remote areas. Groundcheck's geotechnical drilling services include wash boring, soil sampling and coring, rock coring, and Standard Penetration Testing, while its environmental drilling services comprise soil sampling, dry coring, base rock coring, monitoring well installation, and ground water sampling. The geotechnical instrument installation services offered by Groundcheck include inclinometer installation, piezometer installation, and extensometer installation, among others. Finally, the company's in situ testing services cover various soil investigation tests such as CPT Testing, Vane Shear Testing, Sand Cone Density Test, Field CBR Testing, DCP Testing, Double Ring Infiltrometer Testing, and Hand Auger Sampler.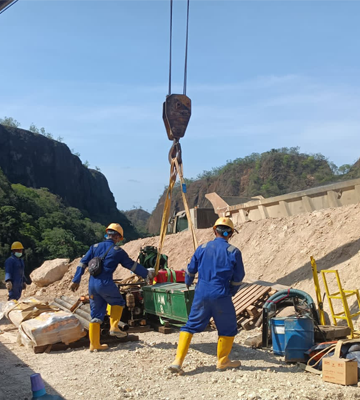 Groundcheck is a leading provider of geotechnical drilling and soil investigation services throughout Indonesia. Our team of experts is equipped with the latest equipment and techniques to ensure the highest drilling quality and data integrity, even in difficult and remote areas.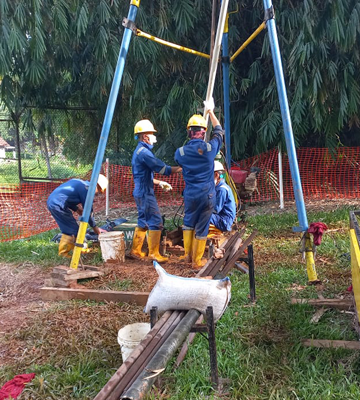 At Groundcheck, we recognize the crucial role that environmental drilling and subsequent sampling work in environment investigation. As an experienced provider of environmental drilling and monitoring well installation services, we have worked with some of the most reputable environmental consultants in Indonesia, who hold us to the highest standards in the industry.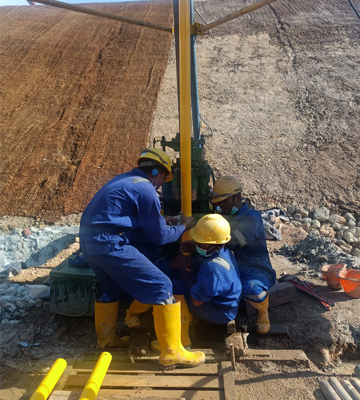 Groundcheck is a proud partner of several geotechnical instrumental equipment providers, offering a wide range of geotechnical instrumentation tools required for various development projects in Indonesia.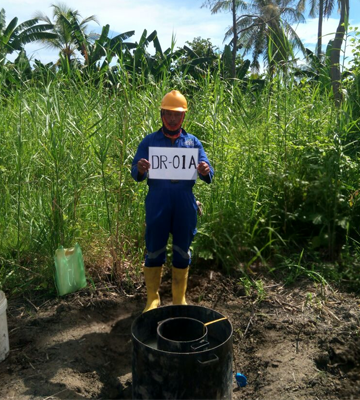 At Groundcheck, we specialize in offering a comprehensive range of soil investigation testing services for various projects in Indonesia. Our team of experienced geotechnical engineers understands the importance of accurate and reliable soil data, and we use our knowledge to provide our clients with data that is critical for their design and construction decisions.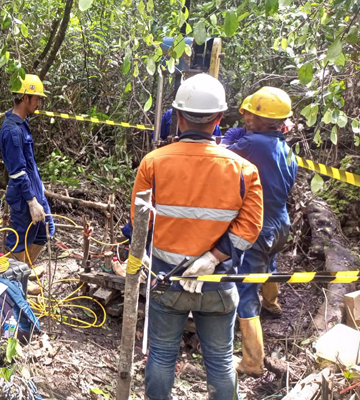 Groundcheck offers state-of-the-art Geomill CPTu test, which are compatible with both 2.5 and 10 tonne CPT frames. Whether you require a smaller or larger capacity frame, the Geomill CPTu probe delivers exceptional performance and reliability for all your geotechnical data need.
At Groundcheck, we experience in constructing high-quality bamboo-timber platforms for geotechnical drilling needs in nearshore, river, and lake environments. Our team of experienced professionals has the knowledge, skills, and expertise required to construct safe and reliable platforms for geotechnical investigation need.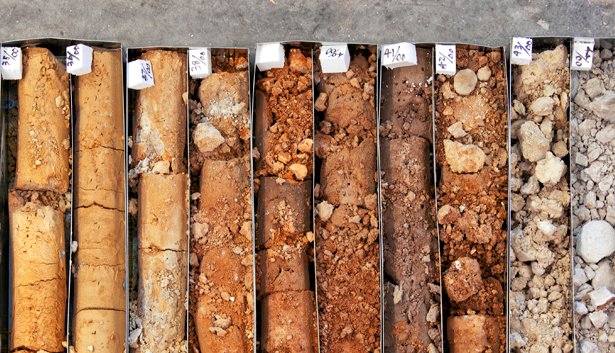 " We never comprised the integrity of our data and samples. In the rare case where we face difficulty in fulfilling the initially agreed scope in time, we will provide honest report to our client on the problem that we face and discuss on the possible solution."

PT Groundcheck Inti Indonesia
Nomor Induk Berusaha (NIB):
912010153076
Surat Izin Usaha Jasa Konstruksi (SIUJK):
17/C.31/31.74.07.1006.02.010.K.1.a.b/2/-1.785.56/e/2021
Surat Izin Usaha Jasa Pertambangan (SIUJP):
11/1/IUJP/PDMN/2021
Level 11 – One Pacific Place SCBD
Jl Jend Sudirman Kav 52 – 53
Jakarta Selatan, 12190
PT Groundcheck Inti Indonesia.
Vivo Business Park.
Blok J No 15.
Jl. Pembangunan 3, RT.001/RW.004, Karang Anyar, Kec. Neglasari, Kota Tangerang, Banten 15121
Desa Tawahan RT. IV
Kec. Juai, Kab. Balangan
Kalimantan Selatan, 71665.