CPTu Geomil Equipment Rental – When it comes to conducting geotechnical investigations, having access to reliable and accurate equipment is crucial. For professionals in the field, PT Groundcheck Inti Indonesia has emerged as a trusted partner, providing top-notch rental services for Cone Penetration Testing with pore pressure measurement (CPTu) equipment.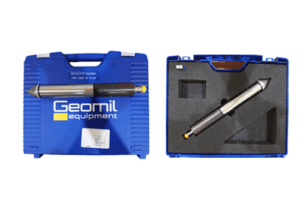 Groundcheck Inti Indonesia boasts an extensive fleet of state-of-the-art CPTu Geomil equipment, designed to meet the diverse needs of geotechnical professionals. The Geomil equipment available for rental includes advanced cone penetration testing systems that provide accurate and reliable data for soil investigations. Equipped with advanced sensors, these systems effectively measure cone resistance, sleeve friction, and pore pressure in real-time, enabling geotechnical engineers to make informed decisions based on accurate data.
Understanding that different projects may require specific equipment capacities, Groundcheck Inti Indonesia offers multiple options for CPTu Geomil equipment rental. Clients can choose from a range of CPT frame equipment, including 2.5 tonne and 10 tonne capacity systems, ensuring that they have access to the most suitable equipment for their specific project requirements. This diverse selection allows professionals to carry out a wide variety of geotechnical investigations efficiently and effectively.
Recognizing the unique requirements of each project, Groundcheck Inti Indonesia offers flexible rental solutions to cater to the specific needs of their clients. Whether you require equipment for a short-term project or a long-term engagement, the company ensures a seamless rental experience. Their team of experts assists clients in selecting the most suitable CPTu Geomil equipment and provides comprehensive support throughout the rental period.
At Groundcheck Inti Indonesia, quality is of utmost importance. The company maintains a stringent quality assurance process to ensure that their CPTu Geomil equipment is always in optimal working condition. Prior to every rental, the equipment undergoes thorough inspections and maintenance checks, ensuring reliability and accuracy during operations. By prioritizing quality, Groundcheck Inti Indonesia guarantees that their clients receive equipment that performs to the highest standards.
Understanding the complexity of geotechnical projects, Groundcheck Inti Indonesia offers expert technical support to its clients. Their team of experienced professionals possesses in-depth knowledge of CPTu Geomil equipment and its applications. They are readily available to provide guidance, troubleshooting, and training, ensuring that clients can utilize the rented equipment to its full potential. With their assistance, professionals can carry out their geotechnical investigations with confidence, knowing that expert support is just a call away.
Groundcheck Inti Indonesia places great emphasis on building strong relationships with their clients. Their client-centric approach is reflected in their dedication to understanding and fulfilling the unique requirements of each project. From the initial inquiry to the post-rental phase, the company provides personalized attention, ensuring that clients receive the best possible service. Groundcheck Inti Indonesia's commitment to customer satisfaction has earned them a loyal clientele and a stellar reputation in the industry.
For geotechnical professionals seeking reliable and accurate CPTu Geomil equipment rental services, PT Groundcheck Inti Indonesia is the go-to choice. With their state-of-the-art equipment, flexible rental solutions, quality assurance, expert technical support, and diverse options for rental capacities, they have established themselves as a trusted partner in the field. When you choose Groundcheck Inti Indonesia, you can be confident that you have the right tools and support to successfully carry out your geotechnical investigations.
Contact Groundcheck Inti Indonesia today and experience their exceptional CPTu Geomil equipment rental services for yourself.